(Beijing International Ballet and Choreography Competition)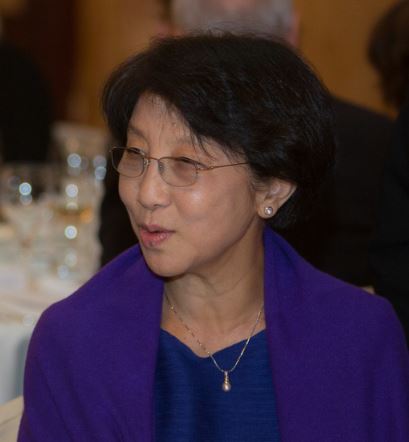 Ru Heng Zhao - Chairman of the Chinese Dancers Association
- CPPCC National Committee
- President of the Jury of the Shang-hai International Ballet Competition
- President of the Jury of the Asian Grand Prix International Ballet Competition
- Founder of the Beijing International Ballet and Choreography Competition
- Founder of Hiu Sing Ballet Arts Development Fund
- Former Artistic Director of the National Ballet of China
Zhao Ru Heng was Born in Beijing, China in February 1944. She is a top- grade. China national dancer, former Artistic Director of the National Ballet of China, Chairman of Chinese Dancers Association, Artistic Director for Dance of the National Centre for the Performing Arts.
Zhao graduated from the Beijing Dance Academy in 1961, and joined The National Ballet of China. in the same year. She was danced Principal roles in numerous productions such as <Swan Lake>, <La Sylphide>, <Giselle>, <Red Detachment of Women>. Following a leg injury in 1972 which resulted in retirement from the stage, she devoted herself to teaching, rehearsing, artistic research, and external cultural exchanges. She was appointed the artistic director of The National Ballet of China in 1994.
During her 14 years as the artistic director of The National Ballet of China, she devoted a lot of efforts into the integration of element of Chinese opera, music, arts and dance movements into ballet, which is western art forms, to creat Chinese ballet work. In 2001, Zhao presented the highly-acclaimed full-length Chinese ballet <Raise the Red Lantern>. In addition, she also created a series of full-length ballet with Chinese folk elements, such as <The Chinese Nutcracker>, <Butterfly lovers> and <Yellow River>.
Zhao was also re-staged numerous classical repertoires including <Swan Lake>, <Sleeping Beauty>, <Le Corsaire>, <Romeo and Juliet>, <Sylvia>, <Onegin>, <Carmen>, <Four Temperaments> and <Beethoven Symphony No.7> Among the over 20 different countries and religions to which the company has toured under Zhao's leadership, the invitations to perform full-length Chinese and western ballets at the famous theatres of England and France were rhe climax for the company, and greatly exchanged the status of Chinese ballet in the ballet world.
Zhao places much important on the universal education of the art of Ballet and created the brand of "ballet Stepping into School", the Biennial Beijing International Ballet and Choreography Competition and Hiu Sing Ballet Art Development Fund, and Successfully held the first International Dance Festival at the National Theatre of China.
Zhao has been a constant member of juries of major international ballet competition, New York and Jackson, Varna, Moscow, Helsinki, Lausanne, and The President of the jury Shanghai International Ballet Competition and Hong Kong Asian Grand Prix. She was recognized by the Central people's government as "Cultural Pioneer" in 1995. "Woman Pace-setter" in 2005 and "Influential Chinese Culture Personage of the Year" in 2011. In recognition of her contribution to the cultural exchange between China and France, she was awarded the prestigious "Knight of the Order of Arts and Letters" by the French Cultural Department in 2008.
Beijing International Ballet and Choreography Competition 소개