South Africa International Ballet Competition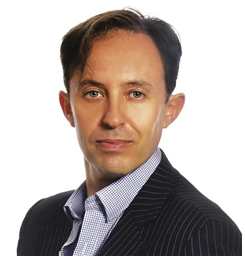 Dirk Badenhorst- South Africa International Ballet Competition CEO
Dirk Badenhorst - South Africa International Ballet Competition CEO
Dirk Badenhorst started his professional ballet career with CAPAB Ballet in Cape Town and continued as a member of PACT Ballet in Pretoria, South Africa. He also danced and toured with Danza Lorca Spanish Dance Company and the José and Helena Montoya Spanish Dance Company.
After the closure of the State Theatre and its performing entities in 2000, he was instrumental in establishing The South African Ballet Theatre, the first independent professional ballet company in South Africa. During his tenure with SABT, he negotiated sustainable sponsorships, various international collaborations for the company as well as leading the company to a new home in state-of-the-art studios at the Joburg Theatre (then the Johannesburg Civic Theatre). He served as CEO of SABT until 2006.
In 2008 he established Mzansi Productions, a professional dance company comprising dancers skilled in classical ballet and contemporary dance.
Also in 2008 he initiated a partnership and exchange programme with ballet institutions in Cuba, including most importantly the National Ballet School of Cuba. Under the auspices of this programme, he has brought to South Africa the Young Cuban Ballet Stars as well as, on an ongoing basis, teachers and senior students from the School to share their expertise with South Africans.
He travels extensively, locally and internationally, to stay in touch with developments in the world of dance and to initiate exchange programmes aimed at raising the training standards in ballet and dance in South Africa.
As a ballet entrepreneur and under the banner of 'Dirk Badenhorst Presents', he has presented a series of international ballet galas in South Africa, including one dedicated to Alicia Alonso in 2013 and for which Madame Alonso herself visited Johannesburg, as well as galas featuring American and Russian stars in 2014.
He was invited by the Alumni Club of Harvard University to do a presentation in March 2011 in New York on the state of the arts in South Africa after the Soccer World Cup.
In 2008 he established the South African International Ballet Competition of which he is the CEO. The bi-annual SAIBC has drawn leading young dancers and distinguished judges to South Africa for the Competitions in 2008, 2010, 2012, 2014 and 2016.
Dirk Badenhorst is the first South African to have served on the juries of the Beijing International Ballet Competition, the Havana International Ballet Competition and the Seoul International Dance Competition, Valentina Kozlova International Ballet Competition, and Sochi International Ballet Competition and will serve on the juries of Shanghai International Ballet Competition in August, 2016.
In 2012, Dirk Badenhorst was appointed the first CEO of South African Mzansi Ballet, a new ballet and dance company formed by the merger of Mzansi Productions and The South African Ballet Theatre. In 2013 the company's name was changed to Joburg Ballet to reflect a generous sustainable funding grant from the City of Johannesburg.
He resigned from Joburg Ballet in November 2015 and is now running a project called Training Teachers in the Townships to accelerate the transformation of ballet in South Africa.
Dirk Badenhorst has a passion for youth development and outreach programmes and initiated and directs the Roodepoort Youth Ballet. He has also established several outreach programmes for young dancers in historically disadvantaged communities in Pretoria, Alexandra and Thembisa. He is deeply committed to taking dance to all South African audiences and communities and to find, grow and nurture future dancers, choreographers and other arts practitioners.
His contribution to ballet and dance beyond the activities of his own company, especially training and upliftment projects, is underscored by the fact that the auspicious Royal Academy of Dance (RAD) appointed him the International Advisor for South Africa and Africa, reporting to the Board of Trustees of the RAD.
He hosted the popular dance reality programme Dans!Dans!Dans! on Kyknet which gave viewers a glimpse into the world of dance and the effort and dedication it takes to be a professional dancer, in the process creating great awareness for and interest in this art-form.
Apart from his involvement in ballet, he worked as Senior Programme Director for Common Purpose Leadership Development Programmes, managed his own Movement Therapy practice providing services to, among others, the Unica School for Autistic Children, Weskoppies Psychiatric Hospital and the New Hope School for the Mentally and Physical Handicapped, and served on the National Arts Council.
He has lectured in Dance and Movement Therapy as a subject for the University of Pretoria's Masters Degree in Music Therapy.
He holds the following qualifications:
 BA (Psychology & Philosophy)  Teacher's Diploma in Dance  Diploma in Dance and Movement Therapy, and  MBA
Contact details: Telephone: 083 324 0949 Email: badenhorstdirk.db@gmail.com
■South Africa International Ballet Competition